A trendy darts pub that wants to succeed in the future of gastro-gaming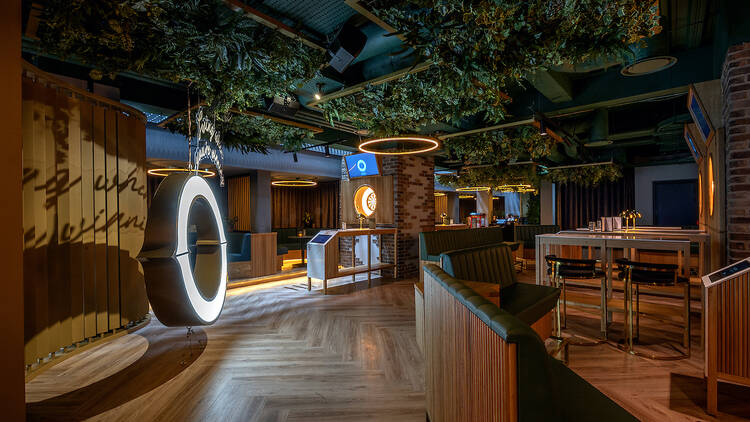 Oche caught my attention despite the fact that I haven't played darts in decades since it offered a glimpse into the emerging world of so-called gastro-gaming. If you're unfamiliar, an oche is the line in front of which you must stand when throwing darts. In addition to having roughly 30 computerized dartboards, this new, upscale establishment in the heart of London also serves oysters, ceviche, and sliders. The design is predominantly pink and peach, with a rhapsody of fake succulents and neon "Live Laugh Love" placards; as a result, it almost resembles an Instagram content studio for well-off teenagers. While you're throwing arrows, Valrhona chocolate treats are being delivered from the open kitchen, hidden behind cloches and billowing smoke. Oche may be a darts bar. Your victories or embarrassing moments are broadcast for everyone to see on the screen above the dartboard. Oche offers three games with a fantasy theme and include swords, shields, and axemen in three of them. Darts purists will scoff at this.
I'm intrigued by the term "gastro-gaming," which appears frequently in Oche's PR materials, as many of its investors obviously believe that this is the future. Oche is much more slick and, well, grown-up than the numerous bars that have opened in recent years that specialize in darts, ball pits, and crazy golf. There is no attempt made to create the feel of a pub darts game, and I'd be willing to bet that no one playing on the Saturday we attended would have understood the significance of Jim Bowen's Bullseye or the maxim to remain "out of the black and into the red, nothing in this game for two in a bed." The demographic that missed out on sticky-floored bars and wants a place with an activity where they can eat Korean-inspired bao buns while drinking pornstar martinis is the target market for the gastro-gaming industry.
Off-peak in the afternoon, it cost the two of us £16 for 85 minutes of darts (at peak times, it's £12 per head), but what Oche is really promoting is its food. And that's when things really start to go wrong. Small, finger-sized quantities of feta croquettes, spicy tuna in a tiny cone, and lumps of subpar blue-veined cheese crammed onto a dish with brined artichokes are all included on the sharing platters. Five dishes were £19.90, but we chose the eight-plate "chef's menu" for £29.90 per person and absolutely baffled the staff by requesting them to substitute the pork bao as Charles doesn't like pig. By this point, we had already spent £76 without beverages and realized that Oche's cutting-edge darts software was prone to adding things up incorrectly, necessitating multiple human overrides throughout each game. Despite being well aware of this, the personnel appeared to treat computer mishaps as routine.
My biggest mistake, however, was not placing a pizza order. Oche has seven "gourmet" pizzas available, including a margarita with buffalo mozzarella for £12.90 and a four-cheese pizza for £15.90, but I was set on the complete gastro-gaming experience, stupid me. Each person received an oyster at first, adorned with green onion oil, wasabi, rose petals, and wasabi. It was oddly delicious, and it was the first time I'd ever down an oyster while attempting a triple 20. The next dish was hummus with dry flatbread that had a distinct flavor similar to Sainsbury's Moroccan hummus that had been zhuzhed up with a splash of extra oil. The cheese, a dish of chutney, some unappealing nocellara olives, and those unappealing crostini that itch the back of your throat followed.
Even though it was presented ostentatiously in a bowl of salt and had salmon roe on top, the tuna cornet with lime-flavored ooze was at best a mouthful. Halibut ceviche that wasn't particularly fresh was served next, followed by the greatest item on the menu—probably beef and smoked bone marrow brioche sliders with chipotle mayo. A Mini Magnum-inspired dish was the last meal, although it was served with dry ice.
Bang, everything was over. Although the computer was completely inconsistent at calculating our scores, it was incredibly quick to recognize when our time slot was up and kicked us off in the middle of the game.
When we departed, my major impression was one of confusion: to whom exactly is Oche directed? The food, which is advertised as a "thrilling" treat, turns out to be a few fancy bites and a few pieces of a Marks & Spencer's finicky tea. You can joyfully throw a treble 12 and it will give you nine points since the dart boards are untrustworthy. Why, then, are there few options for vegans and vegetarians and no alcohol-free beers on the menu if it is primarily geared toward the new breed of healthy, non-drinking young people? On paper, gastrogaming seems appealing, but Oche is currently wildly off course.
London, WC2, 020-4540-5603; Oche, 105 Strand 12:00 to midnight, every day of the week (11.30pm Sun). Pizzas starting at £12.90, a five-plate sharing menu for £19.90, an eight-plate menu for £28.90, all with drinks and service included.