Queen Elizabeth II had assimilated into our daily lives after 70 years as monarch. What will be different now that we are used to seeing her face, profile, and coat of arms on mail, in our loose coins, and on cereal boxes?
New change
The Queen's head can be found on every one of the 29 billion coins in use in the UK. She was 88 years old in 2015 when the most recent design was created. It was the fifth coin picture made while she was in power.
The Queen's coins are likely to remain in circulation for many years, and the process to replace them will likely be slow. The Royal Mint won't explain how or when it will start issuing coins with King Charles III's head on them.
Prior to the decimalization of all British coins in 1971, it was extremely common to see many kings on your change.
Although the design of the King's coin portrait is unknown, a coin released by the Royal Mint in 2018 to mark his 70th birthday provided us a hint. Additionally, it appears certain that he will be portrayed looking the opposite direction, to the left. For each new monarch, tradition mandates that the monarch's facing direction on coins must change.
New designs will be produced at the Royal Mint in Llantrisant, south Wales, after receiving government approval.
Since 1960, the Queen has been depicted on all Bank of England notes (notes issued by Scottish and Northern Irish banks do not depict the monarch). Approximately 4.5 billion unique Bank of England notes, each worth about £80 billion, are currently in use. As with coins, these will be phased out over time.
The same applies to all coins and bills. If that does change, the Bank of England will offer enough notice.
Postal boxes and stamps
All Royal Mail stamps have had an embossed silhouette of Queen Elizabeth II's side profile on them since 1967.
Although they can still be used on mails and packages, Royal Mail will no longer be making Queen Elizabeth II stamps and will instead start the process of creating new ones.
The new King has already appeared on stamps, but Royal Mail won't yet reveal the appearance of the new designs featuring him.
The Royal Mail decorates numerous postboxes with royal cyphers in addition to placing the king on stamps.
The EIIR mark of Queen Elizabeth II, which stands for Elizabeth and Regina, which means queen, is present on more than 60% of the 115,000 postboxes in the United Kingdom. They display the Scottish crown in Scotland.
Since there aren't many new postboxes being installed, it might take some time before you see one of these outside of Scotland. New postboxes will now all include the King's cypher.
Royal seal of approval
You've probably noticed the Royal Arms and the words "By appointment to Her Majesty the Queen" on some of your groceries or other things in your home, including tomato ketchup, cereal boxes, and perfume. These are goods that have received a Royal Warrant, which means that the manufacturer regularly supplies the Royal Households.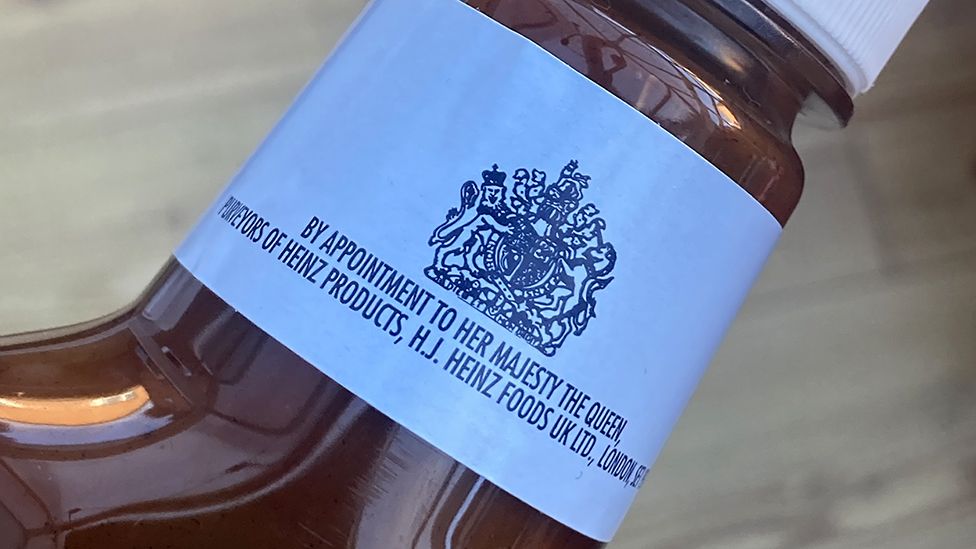 There are now roughly 900 Royal Warrants owned by 800 firms. For the past century or so, the monarch, their consort, and their heir have all granted their own Royal Warrants, making them grantors.
Any Royal Warrants issued by a grantor after their passing are null and void, and the business has two years to stop using the Royal Arms. (Unusually, warrants issued by the Queen Mother remained in effect for five years following her passing.)
Now that he is King, Charles will continue to issue warrants because they pertain to the household, not just his title.
It is anticipated that the next King would now empower Prince William, his son and successor, to issue his own warrants.
Passports still valid
However, more than just currency, stamps, and warrants require upgrading.
All British passports are still valid for travel and are issued in Her Majesty's name; however, the text on the inside of the front cover will be changed to His Majesty for new passports.
Some police departments in England and Wales that still carry Queen Elizabeth II's royal cypher in the center of their helmet plates will need to make adjustments. With immediate effect, barristers and solicitors who have been chosen by the queen to serve as Queen's Counsel will now be referred to as King's Counsel.
Finally, the lyrics to the national anthem will be changed from "God Save the Queen."
A public declaration will be made from the balcony of St. James' Palace following the formal proclamation of Charles as King, along with the cries of "God Save the King."
The playing of the national anthem will follow.