Do you switch from one side to another in the middle of the night, unable to sleep because of the scorching heat? Well, as the temperatures this season have been blazing hot in many parts of the world with record – breaking heat waves and vicious wildfires that have swept throughout many parts of the world, particularly Western Europe, the UK,China and many more. 
There have been some significant impacts due to the searing heat so we are going to take a look at images that people have shared on the internet of their experiences with the summer heat.
So get ready for some heat wave madness and keep on scrolling.
My Ducks Had To Come Inside Today Due To The Scorching Heat Outside
They are NOT house ducks, and they're watching the washing machine – My dad walked past them sniggering,pointed to the washing machine and said ' Petflix'.
2. A Store Lets Stray Dogs Sleep In the Cool AC In The Hot Weather
The blazing heat might not be such a big deal as other natural disasters but the U.S National Weather Service has adjudged it to be the deadliest weather hazard over the past 30 years in which it is especially dangerous during the summer.
3. A Man Gives This Pregnant Cat An Ice- Cold Bottle Of Gatorade To Hold On To Amid A Peruvian Heatwave.
4. Found This Dehydrated Pipistrelle Bat In The Garden Last Night Because of The Heatwaves.
Managed to get it to drink some glucose solution and an hour later it was flying around the street.
5. A Hedgehog Came From Belgium To The US Due To The Very Hot Weather And It Was Cat Approved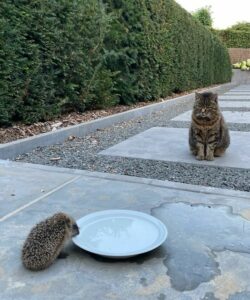 6. During A Heat Wave, My Local Library Being A Friend
7. Wonderful
8. Wildlife Suffers From The Heat Just As You Do So Try and Leave A Bowl Of Water Out In Your Garden
9. A Person Put Out A Doggy Station With Treats And Water Outside His House To Help Dogs Cool Down During The HeatWave
It may be tricky to say a specific weather event was influenced by climate change,Kleczka explained, "The burning of fossil fuels contributes around 90% of global C02 emissions  directed by the climate breakdown."
"We need to see now are genuine policies from global political leaders in the run- up to COP27 (The 2022 United Nations Climate Change Conference)that will take us away from dirty fuels and towards renewables and energy efficiency"
10. Residents of Manchester Are The Best