The storied brand's first four-door is surprisingly useful, charmingly quirky, and predictably brilliant.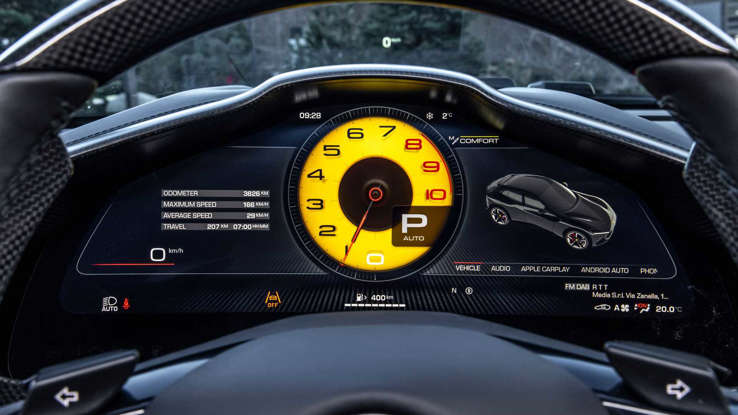 The Ferrari Purosangue has been grinding out internet viewing records since its September 2022 debut and it's easy to understand why. Higher off the ground, with four doors and enough space for people and luggage that it's suitable on long trips, it's fair to say there's never been a car like this in Ferrari's 75-year history.
The engine remains special despite the departures elsewhere, of course. It's a naturally aspirated 6.5-liter V12, packing 715 horsepower and 528 pound-feet of torque, while an eight-speed automatic transmission and all-wheel drive help it zip to 62 miles per hour in 3.3 seconds. The top speed is just a hair over 192 miles per hour.
I was able to test the Purosangue for the first time in in the mountains around Pinzolo, Italy, nearly 150 miles north of Ferrari's home in Maranello, and I can already tell you it's a thrill, just from the playful rear end alone. That's clear from a look at the video first drive, although I forgive you if the majestic sound of that 12-cylinder Ferrari engine and the stunning woods and valleys of northern Italy distract you.
his review was produced by Motor1.com Italy and has been translated from Italian to English. Edits have been made for style and clarity, and units have been translated from metric to standard where required. All currency conversions are accurate as of publication. For the original version of this story, click here.
Ferrari Purosangue: Exterior
Is a Ferrari that sits higher off the ground on par with other Ferraris? Maranello engineers answered this question by making the driver feel the same sensations they'd experience in any other Ferrari, regardless of the car's height, weight, or overall dimensions.
But more on that in a moment, because first, it's useful to recall some numbers: the Purosangue is 62.6 inches tall at roof level, which is less than rivals like the Lamborghini Urus, Aston Martin DBX, Porsche Cayenne, or even this Ferrari's countrymen, the Alfa Romeo Stelvio Quadrifoglio and Maserati Levante. Ground clearance doesn't climb much beyond those of a typical sports sedan, either, with 7.3 inches. That's a whole 2.3 inches more than a BMW M5 CS.
As for weight, the Purosangue tips the scales at 4,481 pounds dry (4,806 pounds with its various fluids), or 258 pounds less than the slightly larger Urus Performante. The Ferrari distributes that weight almost perfectly, too, with 49 percent on the front axle and 51 percent on the back.